Proceeds of the sales of sculpture from the exhibition to Lycetts guests will be donated to Tusk Trust.
Tusk is a dynamic and pioneering organisation, universally acknowledged as a highly effective and efficient force in African wildlife conservation.  Over the past 25 years, Tusk has invested £25 million into a successful combination of wildlife protection, community development and education programmes, designed to provide lasting benefit for the people and wildlife of Africa.
Under the committed patronage of HRH The Duke of Cambridge, Tusk has been involved in and contributed towards more than 100 important wildlife conservation projects, providing greater protection for 36 different endangered species, spanning 18 sub-Saharan countries.
Charlie Mayhew, CEO of Tusk, founded the charity in 1990, after leading an expedition from London to Cape Town where he experienced at firsthand the conservation challenges facing Africa's habitat and wildlife. The current battle to save Africa's iconic species such as elephant, rhino and lion from rampant illegal poaching has been a major focus.  Charlie has been active at the heart of this crisis, stating; "I cannot accept that we could be the generation that allowed some of Africa's most iconic species to disappear from this planet under our watch."
The key to Tusk's focus in Africa has concentrated on conservation programmes combining wildlife protection with community development and education. This is summed up by a quote from Prince William last year; "I was initially drawn to Tusk by its innovative and holistic approach and its unwavering certainty that conservation is as much about people and community programmes as it is about wildlife protection."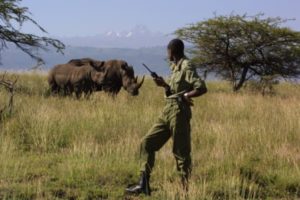 "Despite facing some of the greatest conservation challenges to international conservation in history, Tusk continues to be a shining light in what are tragically dark times for Africa's wildlife."   
HRH The Duke of Cambridge KG KT, Royal Patron of Tusk
The three aims of Tusk are:
To promote education
Education holds the key to long-term change. More than 100,000 children currently attend schools and education centres supported by Tusk.  The acclaimed Pan African Conservation Education programme (PACE) has proved an outstanding education tool, currently involving over 350,000 schoolchildren, capturing hearts and minds, and, crucially, changing attitudes and behaviours.
To support rural communities
Tusk has helped pioneer community-led initiatives that integrate conservation with sustainable rural development.  More than 2,000 people are gainfully employed as rangers, researchers or tour guides through Tusk's projects, while more than a million others benefit from greater security, infrastructure, healthcare, and the wider livelihood options that these projects are able to provide.
To protect endangered species
Tusk's projects are playing a critical role in the survival of not only African elephants, rhinos and lions, but also cheetah, chimpanzee, eastern lowland and Cross River gorilla, painted dog, Grevy's zebra, giant sable, Cape vulture, Alaotran gentle lemur, hawksbill turtle, and many more. Tusk is also at the forefront of dynamic efforts to tackle the illegal wildlife trade, working hard to ensure a combination of demand reduction and consumer awareness programmes in the Far East, together with greater law enforcement and judicial penalties across the world will help to eradicate this appalling trade.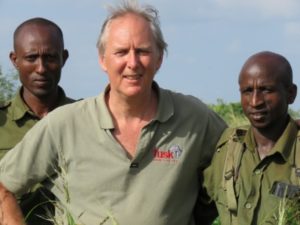 Tusk CEO, Charlie Mayhew.
Notable long term project partnerships include The Namunyak Conservancy in Northern Kenya, where safari guests can stay at the stunning Sarara Lodge, the Lewa Wildlife Conservancy Kenya, Mkomazi National Park in Tanzania and Painted Dog Conservation in Zimbabwe, but there are many more worth reading about.
To learn more about Tusk Trust, visit www.tusk.org
To register for an invitation, please contact Charles Renwick on 0191 232 1151 or email Charles.renwick@lycetts.co.uk.
For further information about the exhibition see www.hamishmackie.com.