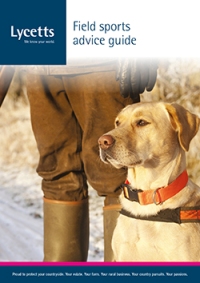 Field sports can be a risky business, making appropriate insurance with adequate levels of cover essential. From personal, public and employers' liability to horse insurance, personal accident and shoot cancellation cover, navigating the insurance maze can be tricky.
Read our guide to making sure you have the right cover.
The seemingly limitless amount of time and expense devoted to rural pursuits means that clients can find themselves significantly out of pocket if things go wrong.
Lycetts can arrange country sports insurance cover to protect most rural pursuits; in particular shoots and hunts from a disaster.
Cover can be provided for buildings, tools and equipment, riding tack, birds (up to release), employers and public liability, motor (including ATVs) and legal expenses.
Find out the five golden rules that underpin shooting in the Code of Good Shooting Practice, produced by ten organisations responsible for live quarry shooting and wildlife management in the UK.